Business Stress Test/ Business Strategy Self Assessment

(PROFESSIONAL VERSION ONLY)
The Strat/Assess model can be used as:
an integral business organisational Process survey tool/Progress survey tool by development stage

of the Business Creation Process

or for an existing company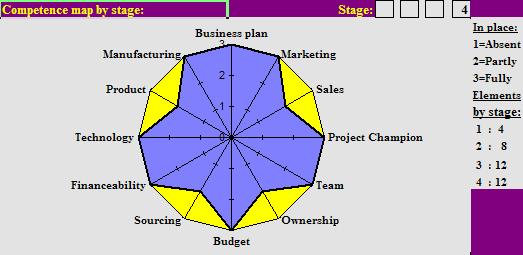 ACCELERATE!
ARE YOU AMBITIOUS AND DO YOU LIKE A CHALLENGE?
DO YOU STRIVE TO ACCELERATE YOUR BUSINESS? ACCELERATE! NOW!

SPEEDING UP YOUR INNOVATIONS AND INCREASE THE HITRATE?

ARE YOU BUSINESS WISE ADVENTUROUS AND OPEN MINDED ENOUGH TO FIND NEW OPPORTUNITIES?:
TRY THE FREE STRATECUTION BUSINESS STRESS TEST WITH THE DEMO STRAT/ASSESS and discover new aspects of your own business in a challenging journey to value creation
The Strat/Assess model provides in 1 A4 a complete picture of the project status and/or the entire company.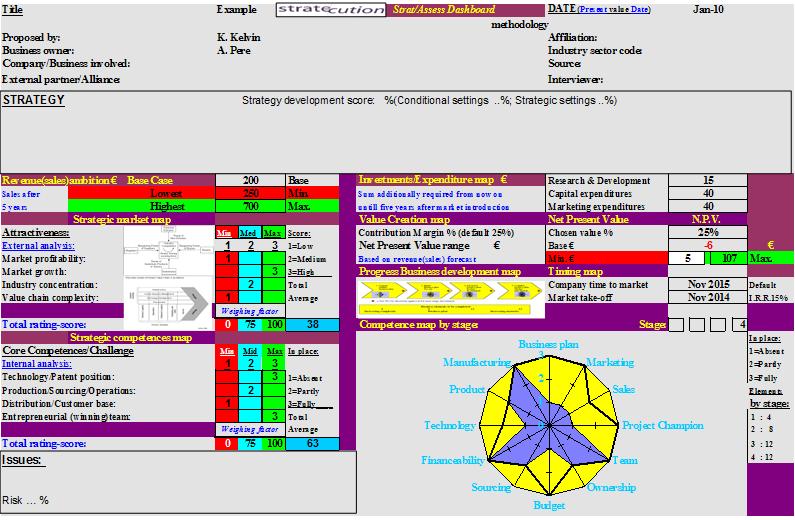 The Strat/Assess model can be used for:

1. Complete new business plans
2. Existing business plans/businesses
Just 5 steps: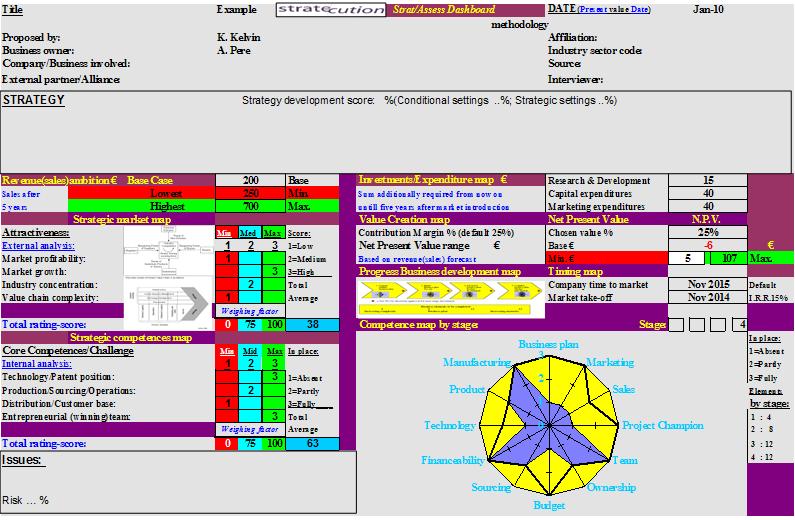 Strat/Assess as a quick business scan provides a business score card when completed top-down:

fast first filtering of business ideas and basic concepts in the scouting stage

a very fast first insight of the business case

an impression on where to put first basic improvement actions and related efforts


an intake document to define the business climate indicating areas for improvement towards the desired state

insight in an existing company: X ray of a company
It contributes to a stretched decision making oriented approach with "checks and balances" leading to:
"Survival of the fittest" business cases/projects/businesses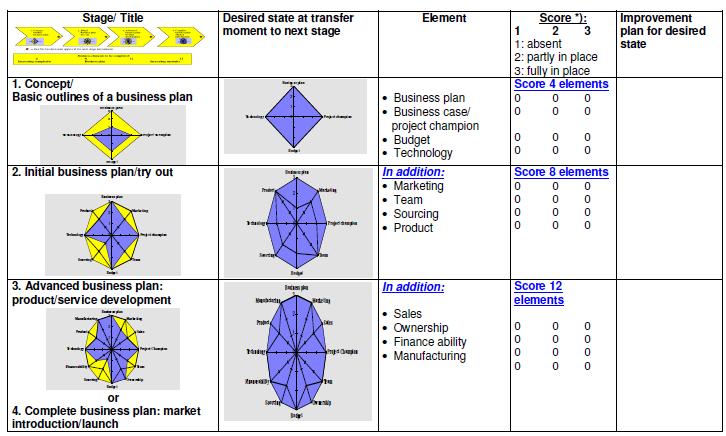 According to the underlying theory a business will fail when not all scores are at 3 level at time of market introduction (at the latest) or when scored for an existing company.

Selection new business case/projects to be elaborated in the next stages:

Feasibility study of the product/service offering and customer value proposition

Prototype product/service offering

Completing and detailing the product/service offering specification

Final testing, control and validation

Market introduction/launch preparation

These stages are compatible with similar models: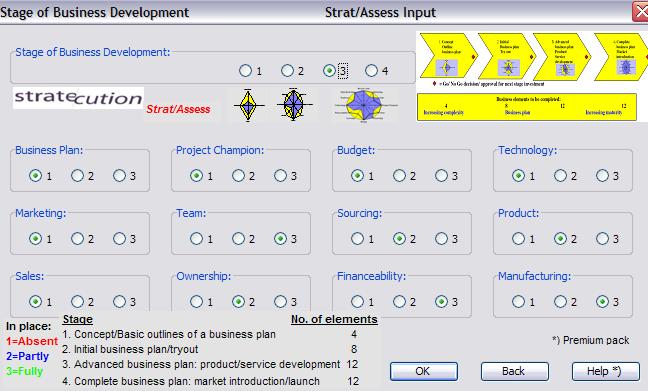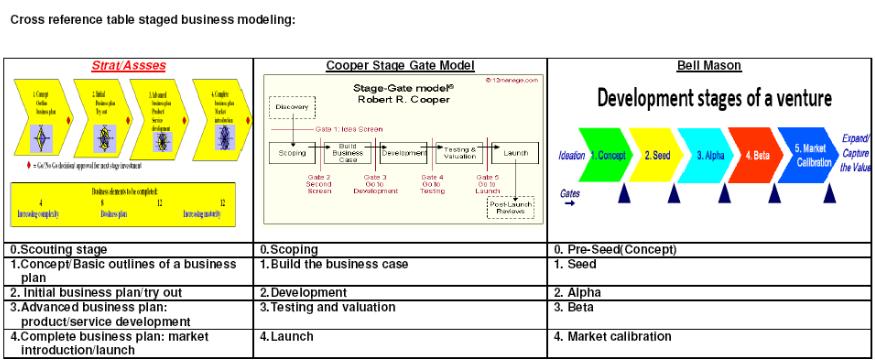 0. Scouting stage
Selection of new business cases/projects to be elaborated in the next stages
------------------------------------------------------------------------
1. Concept/Basic outline of a business plan
2. Initial business plan/tryout
3. Advanced business plan: product/service development
4. Complete business plan: market introduction/launch

Integral Business Development by business/project stage
1. Self assessment tool at the end of each stage
2. Leads to improvement plans aiming for the desired state.
Example element scoring: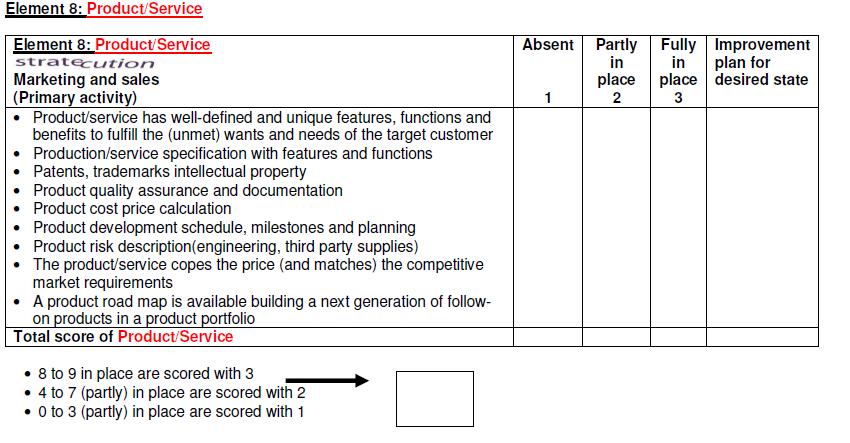 P.D.C.A.: PLAN DO CHECK ACT principle/SMART objectives

Resulting in:

3. Identification of missing and unsufficient elements
4. Measurement of the maturity of the business plan or existing company.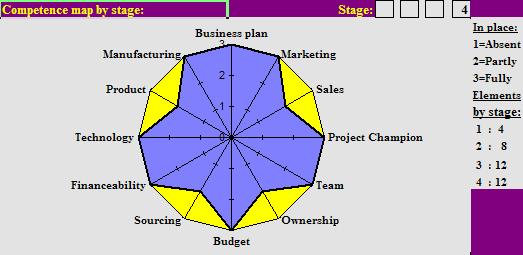 Fits well in E.F.Q.M/ INK model and the SIX SIGMA approach: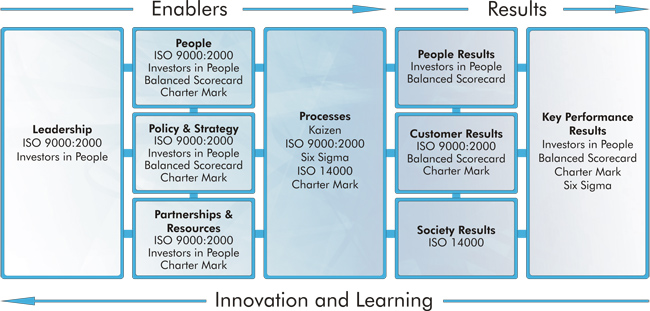 Source: EFQM