The Strat/Assess model serves:
as a business risk management tool/stress test for integral business development
(or in other words as opportunity management ) and
subsequent decision making



In Strat/Assess the business risk is in addition to the financial aspects a factor of strategic market attractiveness and strategic competences:
Strategic market attractiveness: scores for the external market analysis


Strategic competences:

scores for the internal analysis

,
defined as 100% minus the product of the Strategic market attractiveness and Strategic competence scores(the risk can be limited over time by improving competences, whereas market conditions are in most cases a given fact):

100 -/- ( scoring of Strategic attractiveness x scores of Strategic competences) ___________________________________________________
100
SELF ASSESSMENT: STRATEGIC MARKET MAP
EXAMPLE:
From the scores below the risk is 90,5 %

Calculation:
(100 -/- (38x25) ) / 100 = (100 -/- 9,5 ) /100 = 90,5 %
The external factors determine the business risk to a great extent, competences can in most cases be improved.

The maximum risk score in this example is 62 % at a competences level of 100 %. Based on the Strat/Assess requirements as described in bottom-line decision making 62% risk is unacceptable.
Such a project should be discontinued.


SELF ASSESSMENT: STRATEGIC COMPETENCES MAP

Elaboration strategic competences map
(PROFESSIONAL VERSION ONLY)
At risk/incomplete/to be developed:
Desired state: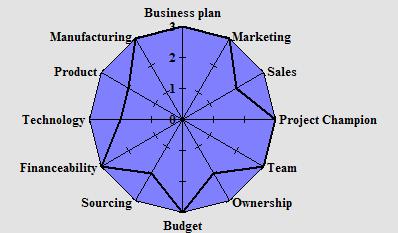 According to the underlying theory a business will fail when not all scores are at 3 level at time of market introduction (at the latest) or when scored for an existing company.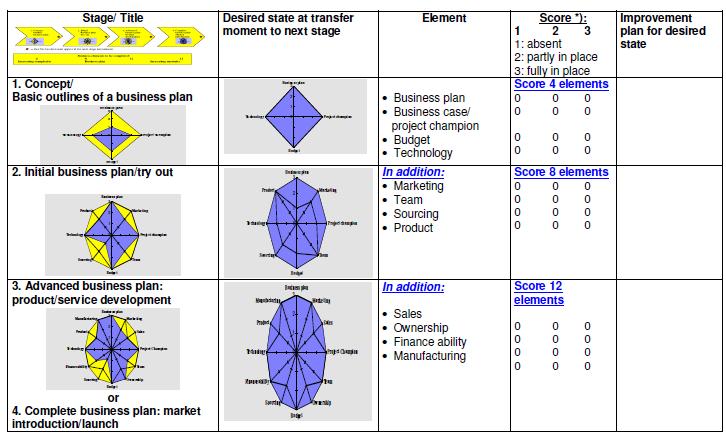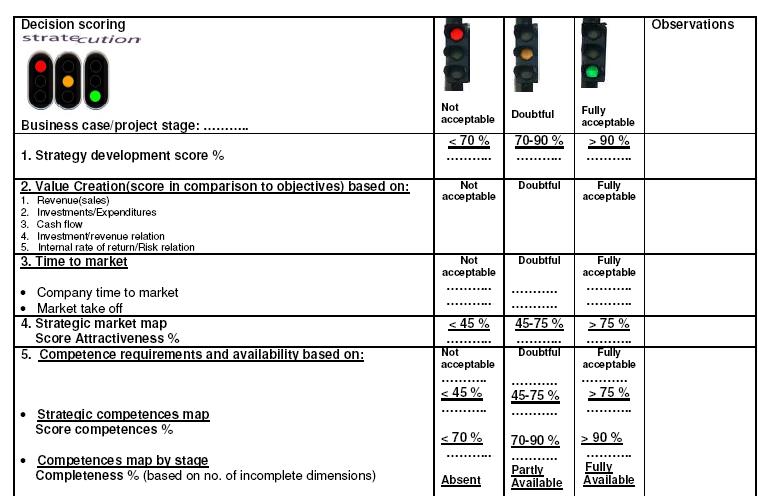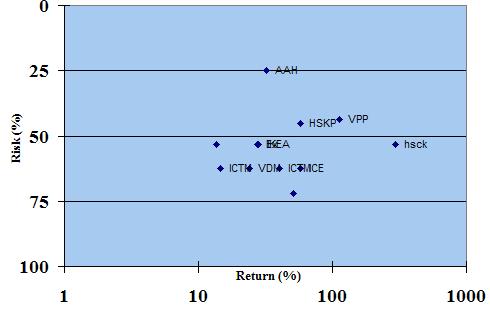 Strategic discussion issues and business risk analysis:
With a stretched decision making oriented approach with "checks and balances" leading to "Survival of the fittest" business cases/projects/ businesses as a

business decision stress test: